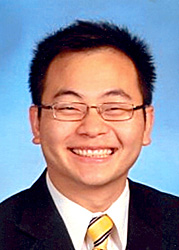 Dr. Mark Wang, M.D.
Joined PACI in 2014

Dr. Mark Wang grew up in Tallahassee, Florida and attended Dartmouth College in Hanover, New Hampshire, where he graduated Summa Cum Laude with a degree in Biophysical Chemistry in 2005. He earned his medical degree in 2009 from Northwestern University's Feinberg School of Medicine in Chicago, Illinois. He then completed his residency training in Anatomic and Clinical Pathology in 2013 from Northwestern University, where he served as Assistant Chief Resident and then Chief Resident during his final two years. He subsequently completed a Surgical Pathology Fellowship at Johns Hopkins Hospital in 2014. Throughout his training, he has been extensively involved in teaching residents, medical students, and undergraduates. He is board certified in Anatomic and Clinical Pathology.
Dr. Wang specializes in general surgical pathology, with a special interest in urologic pathology. He also serves as Medical Director of the Simmons Cancer Institute at SIU, as well as the Memorial Medical Center Express Care Laboratories at the Koke Mill, South 6th Street, and North Dirksen locations. In addition, he directs the Pathology component of the CRR Unit (Cardiovascular, Respiratory, Renal) for the second-year medical students at SIU.
In his spare time, he enjoys cooking, dining out, and traveling with his friends and family.