Philosophy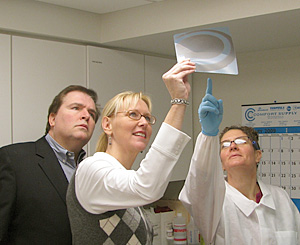 Quality
We continually strive to improve the quality of anatomic pathology and laboratory medicine in the hospitals and communities that we serve.
Our Practice
We are an independent group, separate from the hospitals we serve. We provide adequate financial stability for our employees and shareholders. Our goals are to recruit and maintain high quality professionals and to invest in our practice in order to maintain the quality of the services we provide.
Mission Statement
The primary mission of the Pathology Associates of Central Illinois is to support our affiliated hospitals and physicians by providing them comprehensive anatomic and clinical laboratory services that will assist the hospital and physicians to improve the health of the people of Central Illinois.
Brief History
Who We Are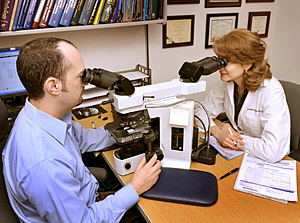 Four Pathologists began the group at Decatur Memorial Hospital in 1993 as Associated Pathologists. The group began to grow slowly, adding coverage to John & Mary Kirby Hospital and St. Vincent's Memorial Hospital (Taylorville Memorial Hospital). In November of 1996, a combined group was formed from the Pathologists at Springfield Memorial Medical Center. The group changed its name and became Pathology Associates of Central Illinois. With the addition of the Springfield group, multiple new services were available including flow cytometry, neuropathology, nuclear medicine, viral pathology, and electron microscopy. We also expanded our services to Abraham Lincoln Memorial Hospital in Lincoln, Illinois, and Gibson Community Hospital in Gibson City, Illinois. In 2000, Drs. Venstra and Rothfuss joined Pathology Associates of Central Illinois and brought with them the association with Passavant Hospital in Jacksonville, Illinois.
We now serve additional community hospitals (hospitals we serve); our most recent addition is Hopedale Medical Complex in Hopedale, Illinois. Our group has also expanded to meet the needs of those we serve. We have added three pathology assistants and now have 25 pathologists that cover a wide spectrum of specialties. We are associated with the Southern Illinois School of Medicine and teach pathology to the medical students and residents.
We look forward to continuing our mission to provide the best, most comprehensive pathology services to the hospitals, physicians, and patients in Central Illinois.