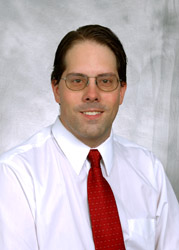 Maurice J. Schuetz, III, M.D.
Joined PACI in 2002
Board Certified in Anatomic and Clinical Pathology
Subspecialty certification:
Subspecialty areas of expertise:
Lymph Node and Bone Marrow Biopsy Pathology
Coagulation/Hemostasis
Dr Schuetz was born in Indianapolis, Indiana, and graduated from Pike High School. He then graduated from DePauw University in Greencastle, Indiana with a major in chemistry. Academic honors received included Phi Beta Kappa, Phi Lambda Upsilon Chemistry Honorary, Alpha Lambda Delta Freshman Scholastic Honorary, Phi Eta Sigma Freshman Scholastic Honorary, and a Merit Scholarship for Chemistry Achievement.
Dr. Schuetz graduated from the Indiana University School of Medicine and attended Anatomic and Clinical Pathology residency at Ball Memorial Hospital in Muncie, Indiana. Dr. Schuetz was very active in the College of American Pathologists Residents' Forum (CAP-RF), and served as an officer on the executive committee of the CAP-RF, and on various other CAP committees as a resident member for several years. After residency, he went on for an additional year of fellowship in hematopathology at the University of Iowa Hospitals and Clinics in Iowa City.
Dr. Schuetz has published a number of papers and articles in the areas of cytology and hematopathology. In his spare time, he enjoys nature, wildlife, outdoor activities, and brewing beer.