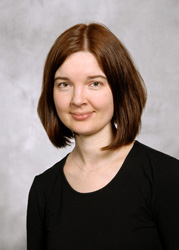 Elena Samoilova, M.D.
Joined PACI in July 2008.
Board-certified by the American Board of Pathology in Anatomic and Clinical Pathology
Subspecialty certification:
Areas of special interest include:
Breast pathology
Fine Needle Aspiration Cytology
Dr. Samoilova graduated with honors from the Medical University of Saint-Petersburg, Russia. She completed a one-year Internal Medicine residency at the Central Baltic Marine Hospital in Saint-Petersburg before moving to the United States. After arriving in Philadelphia, she started a postdoctoral fellowship at the Institute for Human Gene Therapy, University of Pennsylvania. She published several papers on the mechanisms of immune tolerance in the next two years. After a brief stay at home taking care of her young children as well as being a manager for her husband's Internal Medicine Practice in Tennessee, Dr. Samoilova moved to Lexington, Kentucky for a combined Anatomic and Clinical Pathology residency. She successfully graduated in 2006 and for the next two years completed a fellowship in surgical pathology/Cytopathology at the same institution. She received in-depth training in the fine needle aspiration cytology. Dr. Samoilova specializes in general surgical pathology and Cytopathology.
She is a Medical Director of the laboratory at Capitol Healthcare Group and Director of Surgical Pathology Lab at Springfield Clinic. In her spare time, Dr. Samoilova enjoys spending time with her family, cooking, reading and traveling.
Bibliography:
Samoilova EB, Brill Y, Davis J, Hinson J, Cibull M, McGrath P, Romond E, Moore A and Samayoa L: Size of sentinel node tumor deposits and extent of axillary lymph node involvement: Which breast cancer patients may benefit from less aggressive axillary dissections? Annals of Surgical Oncology, Vol 14, Number 8/Aug 2007, pp.2173-2423


Hinson JL, Brill YM, Davis JT, Samoilova EB, Cibull M, McGrath P, Moore A, Romond E, Hester M, Weisinger K and Samayoa L: Critical role of axillary ultrasound and/or ultrasound guided fine needle aspiration biopsy in the management of breast cancer patients with clinically negative axilla. Published online first in the Annals of Surgical Oncology in Aug 2007.


Arsenescu R, Zhong J, Narsimhan M, Arsenescu V, Samoilova EB, Eckhardt E and deVilliers W: Adiponectin and the plant agonist Osmotin promote IL-10 production in a murine model of colitis. Digestive Disease Week, Washington DC, May19-24 2007; Oral presentation.


Liu TS, Hillard B, Samoilova EB, Chen Y: Differential roles of Fas ligand in spontaneous and actively induced autoimmune encephalomyelitis. Clinical Immunology June 2000 95(3):203-211.


Hillard B, Samoilova EB, Liu TS, Rostami A, Chen Y: Experimental autoimmune encephalomyelitis in NF-kappa B-deficient mice: roles of NF-kappa B in the activation and differentiation of auto reactive T cells. Journal of Immunology. Sept. 1999 163(5):2937-43.


Samoilova EB, Horton JL, Hillard B, Liu TS, Chen Y: IL-6 -deficient mice are resistant to experimental autoimmune encephalomyelitis: role of IL-6 in the activation and differentiation of auto reactive T-cells. Journal of Immunology. 161(12):6480-6486.


Samoilova EB, Horton JL, Chen Y: Experimental autoimmune encephalomyelitis in intracellular adhesion molecule-1-deficient mice. Cellular Immunology. 190(1):83-89.


Samoilova EB, Horton JL, Chen Y: Acceleration of experimental autoimmune encephalomyelitis in interleukin-10-deficient mice: roles of interleukin-10 in disease progression and recovery. Cellular Immunology. Sept. 1998 188(2):118-124.


Samoilova EB, Horton JL, Zhang H, Khoury SJ, Weiner HL, Chen Y: CTLA-4 is required for the induction of high dose oral tolerance. International Immunology. April 1998. 4:491-498.


Samoilova EB, Horton JL, Bassiri H, Zhang H, Linsley PS, Carding SR, Chen Y: B7 blockage prevents activation-induced cell death of thymocytes. International Immunology. Nov. 1997. 11:1663-1668.


Zhang H, Yang Y, Horton JL, Samoilova EB, Judge TA, Turka LA, Wilson JM, Chen Y: Amelioration of collagen-induced arthritis by CD95 (APO-1/Fas)-ligand gene transfer. Journal of Clinical Investigation.


Oct. 1997. 100(8):1951-1957.Samoilova EB, Horton JL, Zhang H, Chen Y: CD40L blockade prevents autoimmune encephalomyelitis and hampers TH1 but not TH2 pathways of T cell differentiation. Journal of Molecular Medicine. Aug. 1997 8:603-608