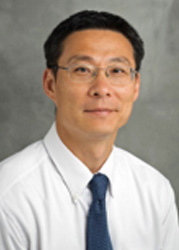 Yuan Rong, M.D. PhD
Joined PACI in 2017

Board Certified by the American Board of Pathology in Anatomic and Clinical Pathology

Specialty Areas of Expertise:
Neuropathology
General surgical pathology


Dr. Rong was born in Beijing, China. He received his MD from Beijing Medical University. He went on to receive his PhD degree in Department of Orthopaedic surgery, School of Medicine, Nagoya University, Nagoya, Japan. His research focus for his PhD program was on bone morphogenetic protein. He moved to United States to do research in the field of brain tumor at Emory University. He completed his residency in Anatomic and Clinical Pathology at Emory University, Atlanta, Georgia. He also completed his neuropathology fellowship at Virginia Commonwealth University,Richmond, Virginia before joining PACI.
When not at work, Dr. Rong enjoys swimming and traveling, and also enjoys spending time with his family and friends.
Selected publications:
Young M., Kasey Pierson K., Le J., Rong Y., Richards N.Q.: Atypical Presentation of Isolated Orbital Langerhans Cell Histiocytosis (manuscript in submitting, 2017).


Chen G., Kong J., Tucke-Burden C., Anand M., Rong Y., Rahman F., Moreno C.S., Van Meir E.G., Hadjipanayis C. G., Brat D.J.: Human Brat Ortholog Trim 3 is a tumor suppressor that regulates asymmetric cell division in glioblastoma. Cancer Res 74: 4536 – 4548, 2014.


Cooper L.A.D., Gutman D.A., Chisolm C., Appin C., Kong J., Rong Y., Kurc T., Van Meir E.G., Saltz J.H., Moreno C.S., Brat D.J.: The tumor microenvironment strongly impacts master transcriptional regulators and gene expression class of glioblastoma. Am J Pathol 180: 2108 – 2119, 2012.


Rong Y., Belozerov V.E., Tucker-Burden C., Chen G., Durden D.L., Olson J.J., Van Meir E.G., Mackman N., Brat D.J.: EGFR and PTEN modulate tissue factor expression in glioblastoma through JunD/AP-1 transcriptional activity. Cancer Res 69: 2540-2549, 2009.


Rong Y., Hu F., Huang R.P., Mackman N., Horowitz J.M., Jensen R.L., Durden D.L., Van Meir E.G., Brat D.J.: Egr-1 regulates hypoxia-induced tissue factor expression in glioblastoma through HIF-1 independent mechanisms. Cancer Res 66: 7067-7074, 2006.


Rong Y., Durden D.L., Van Meir E.G., Brat D.J.: 'Pseudopalisading' necrosis in glioblastoma: A familiar morphologic feature that links vascular pathology, hypoxia, and angiogenesis. J Neuropathol Exp Neurol 65: 529-539, 2006.


Books and book chapters:
Rong Y, Brat DJ. (2009) Vaso-occlusive mechanism that initiate hypoxia and necrosis in glioblastoma: the role of tissue factor and thrombosis. In Van Meir EG, ed. CNS Cancer: Models, Markers, Prognostic Factors, Targets and Therapeutic Approaches. New York, NY: Springer.