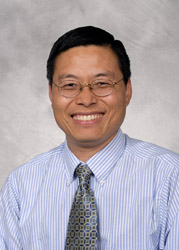 John Gao, M.D., Ph.D.
Joined PACI in 2007

Board Certified by the American Board of Pathology in Anatomic and Clinical Pathology

Specialty Areas of Expertise:
Gastrointestinal and liver pathology
Pulmonary pathology

Dr. Gao received his MD from Hebei Medical University. He went on to receive his MS and PhD degrees in Pathology and completed a residency program in Anatomic and Clinical Pathology at the Albert Einstein College of Medicine North Shore-LIJ health System, New York. He completed his Gastrointestinal and Liver Pathology fellowship at Brown University Rhode Island Hospital.
Before joining PACI, he served as Research Assistant Professor at Thomas Jefferson University and practiced pathology for several years at Beijing University Medical Center.  He has published many articles in peer reviewed journals. He serves as Clinical Professor at SIU, Chairman of the Department of Pathology and Laboratory Medicine at Memorial Medical Center and President of PACI.
Selected publications:
Zhang T, Otevrel T, Gao Z, Gao Z, Ehrlich SM, Fields JZ, Boman BM. Evidence that APC regulates survivin expression: a possible mechanism contributing to the stem cell origin of colon cancer. Cancer Res. 61(24):8664-7, 2001


Gao ZQ, Gao Z, Fields JZ and Boman BM. Development of cross-resistance to tamoxifen in raloxifene-treated breast carcinoma cells. Anticancer Res, 22(3):1379-83, 2002


Cutler NS, Graves-Deal R, LaFleur BJ, Gao Z, Boman BM, Whitehead RH, Terry E, Morrow JD, Coffey RJ. Stromal production of prostacyclin confers an antiapoptotic effect to colonic epithelial cells. Cancer Res. 63(8):1748-51, 2003.


Winn B, Gao Z, Akbari H, Bhattacharya B. Dedifferentiated liposarcoma arising from the sigmoid mesocolon. World J Gastroenterology, 13(30):4147-8, 2007


Moss SF, Lee JW, Sabo E, Rubin AK, Rommel J, Westley BR, May FEB, Gao J, Meitner PA, Tavares R and Resnick MB. Decreased expression of the gastric trefoil factor binding protein TFIZ1 and Gastrokine 1 in gastric cancer: influence of tumor histology and relationship to prognosis. Clinical Cancer Research, 14(13):4161-7, 2008


Winn B, Tavares R, Fanion J, Noble L, Gao J, Sabo E, Resnick MB. Differentiating the undifferentiated: immunohistochemical profile of medullary carcinoma of the colon with an emphasis on intestinal differentiation. Hum Pathol. 2009, 40(3):398-404


Zhang T, Otevrel T, Gao Z, Gao Z, Ehrlich SM, Fields JZ, Boman BM. Evidence that APC regulates survivin expression: a possible mechanism contributing to the stem cell origin of colon cancer. Cancer Res. 61(24):8664-7, 2001


Gao ZQ, Gao Z, Fields JZ and Boman BM. Development of cross-resistance to tamoxifen in raloxifene-treated breast carcinoma cells. Anticancer Res, 22(3):1379-83, 2002


Cutler NS, Graves-Deal R, LaFleur BJ, Gao Z, Boman BM, Whitehead RH, Terry E, Morrow JD, Coffey RJ. Stromal production of prostacyclin confers an antiapoptotic effect to colonic epithelial cells. Cancer Res. 63(8):1748-51, 2003.


Gao Z, Bhuiya T, Anderson A. Perivascular Epithelioid Cell Tumor (PEComa) of the uterus associated with malignant neoplasm of the female genital tract. J Obstet Gynecol, 5: 600-604, 2004


Gao Z, Bhuiya T, Falkowski O. Papillary squamotransitional cell carcinoma of the vagina. J Obstet Gynecol, 1: 104-107, 2005


Gao Z, Kahn LB. The application of immunohistochemistry in bone tumors and tumor-like lesions (review), Skeletal Radiol, 34: 800-816, 2005


Gao Z, Bhuiya T. Mucin-rich carcinoid tumor: a mimicker of adenocarcinoma. Ann Diag Pathol, 10(2):114-6, 2006


Gao Z, Ouansafi I, Anderson AE. Endocervical stromal sarcoma, J Obstet Gynecol, 8:832-835, 2006


Gao Z, Chen S. Post-radiation angiosarcoma of the skin featured by capillary lobules. Am J Dermatopathol, 28(4);376, 2006


Gao Z, Chen S. Plexiform epithelioid schwannoma: a mimicker of malignancy. Am J Dermatopathol, 29:56-58, 2007


Gao Z, Stanek A, Chen S. A metastatic melanoma with an unusual immunophenotypic profile. Am J Dermatopathol, 29:169-171, 2007


Winn B, Gao Z, Akbari H, Bhattacharya B. Dedifferentiated liposarcoma arising from the sigmoid mesocolon. World J Gastroenterology, 13(30):4147-8, 2007


Moss SF, Lee JW, Sabo E, Rubin AK, Rommel J, Westley BR, May FEB, Gao J, Meitner PA, Tavares R and Resnick MB. Decreased expression of the gastric trefoil factor binding protein TFIZ1 and Gastrokine 1 in gastric cancer: influence of tumor histology and relationship to prognosis. Clinical Cancer Research, 14(13):4161-7, 2008


Winn B, Tavares R, Fanion J, Noble L, Gao J, Sabo E, Resnick MB. Differentiating the undifferentiated: immunohistochemical profile of medullary carcinoma of the colon with an emphasis on intestinal differentiation. Hum Pathol. 2009, 40(3):398-404


Ma J, Luo DX, Huang C, Shen Y, Bu Y, Markwell S, Gao J, Liu J, Zu X, Cao Z, Lu F, Liao DF, Cao D. AKR1B10 overexpression in breast cancer: association with tumor size, lymph node metastasis and patient survival and its potential as a novel serum marker. Int. J. Cancer. 2012 Apr 26. doi: 10.1002/ijc.27618. [Epub ahead of print]


Shen, Y., Ma, J., Yan, R., Ling, H., Li, X., Yang, W., Gao, J., Huang, C., Bu, Y., He, Y., Wan, L., Huang, M. C., Stenson, W. F., Liao, D. F., Cao D. Impaired self-renewal and increased colitis and dysplastic lesions in colonic mucosa of akr1b8 deficient mice. Clin. Cancer Res. 21(6):1466-1476, 2015. (This publication is highlighted by an invited editorial of Aging).


McGettigan MJ, Menias CO, Gao J, Mellnick VM, Hara AK. Imaging of drug-induced complications in the gastrointestinal system. Radiographics. 2016;36(1):71-87