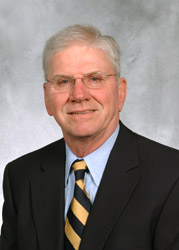 John Dietrich, M.D.
Joined PACI at its inception in 1996
Board Certified by the American Board of Pathology in Anatomic and Clinical Pathology
Dr. Dietrich has been a pathologist at Memorial Medical Center since 1970.Over the years he served as the Director of the Clinical Laboratory from 1970 until 1994, and Chairman of the Department of Laboratory Medicine and Pathology from 1992 until his semi-retirement in 2003. He currently provides pathology outreach support for the outlying hospitals served by the pathology group.
He also served as the chairman of the Department of Pathology, SIU School of medicine from 1994 until 2003.

He is a founding partner of the Pathology Associates of Central Illinois and served as president from its formation in 1996 until 2003.

He is a graduate of the University of Illinois College of Medicine (Chicago), class of 1963. He served his residency in pathology at St. Francis Hospital,Peoria, Illiois and the University of Minnesota. He is board certified in Anatomic and Clincal Pathology.

Dr. Dietrich and his wife are natives of Springfield. They have four children and seven grandchildren.