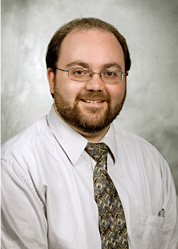 Jason Barnes, M.D.
Joined PACI in 2010

Board Certified by the American Board of Pathology in Anatomic and Clinical Pathology
Specialty areas of expertise:
General surgical pathology
Breast pathology
Diagnostic immunohistochemistry
A native Southern Illinoisan, Dr. Barnes grew up in rural Washington County. He attended Marquette University, in Milwaukee, WI, earning a Bachelor's degree with Honors in Biochemistry/ Molecular Biology. He then earned a Doctor of Medicine degree from the University of Illinois College of Medicine, before completing a residency in combined anatomic and clinical pathology at Vanderbilt University in Nashville, TN, where he developed a special interest in breast pathology. This was followed by a fellowship in surgical pathology at the Medical University of South Carolina in Charleston, SC.
Dr. Barnes specializes in general surgical pathology, with special interests in breast pathology (both benign and malignant), and diagnostic immunohistochemistry. He actively participates in surgical pathology service including frozen section analysis and quality improvement. He also enjoys teaching and interacting with medical students and residents.

Dr. Barnes also serves as Medical Director of the Memorial Medical Center Chemistry and Toxicology Lab. He is currently a Vice Chairman and Assistant Laboratory Medical Director  of the Department of Pathology at Memorial Medical Center

When not at work, Dr. Barnes enjoys fishing and golfing. He's an avid muskie fisherman, and enjoys spending time with friends and family.