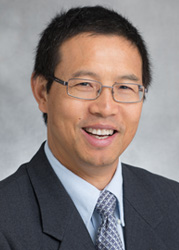 Dr. Jeff Filbert Wang, M.D.

Board certified by the American Board of Pathology in Anatomic and Clinical Pathology
Special areas of interest:
Dr. Wang received his MD from Jiangxi Medical College.  He went on to receive his MS in Pathophysiology (Peking Union Medical College), MS in computer science (University of Nebraska at Omaha) and completed a residency program in Anatomic and Clinical Pathology at the Creighton University Medical Center in Omaha, NE.  He completed his Cytopathology fellowship at MD Anderson Cancer Center in Houston, TX.
Before joining PACI, he served as an Assistant Professor at Washington University at St. Louis for three and half years and private staff pathologist for one and half years at Missouri Baptist Hospital in St. Louis, MO. He has published many articles in peer reviewed journals.
Bibliography:
Perrino CM, Wang, JF, Collins BT. Microphthalmia transcription factor immunohistochemistry for FNA biopsy of ocular malignant melanoma Cancer Cytopathology 2015 online 24 Feb


Collins BT, Bernadt CT, Adhikari LJ, Wang, JF. Predictive value of intra-abdominal lymph nodes in pancreatic endoscopic ultrasonography–guided fine-needle aspiration
Journal of the American Society of Cytopathology, 4:206-210, 2014


Gong Y, Wang JF, Huo L, Wei W, Woodway W. Aldehyde dehydrogenase I (ALDH1) expression in inflammatory breast cancer as measured by immunohistochemical staining.
Clinical Breast Cancer. Jun 14(3), 2014


Hudson JB, Murray BA, Chen AC, Collins BT, Wang JF. Telecytology for EBUS-FNA Immediate Adequacy Assessment: Implementation Experience at a Large Academic Medical Center. Journal of the American Society of Cytopathology, 3:137-141, 2014


Wang JF, Baidoo C, Collins B. Improved Efficacy of Endobronchial Ultrasound Guided Fine Needle Aspiration Biopsy in Comparison to Endobronchial Ultrasound Guided Miniforcesp Biopsy. Acta Cytologica, 2014 Jan 18


Wang JF, Gong Y. Fine Needle Aspiration Lymphoma with Signet Ring Features. Cancer Cytopathol, 2013. 121(9), 525-532.


Collins BT, Wang JF, Bernadt CT. Utilization of p40 with p63 and cytokeratin 5/6 immunohistochemistry in non-small cell lung carcinoma fine needle aspiration.
Acta Cytol. 2013; 57(6):619-24


Collins BT, Chen A, Wang, JF, et al. Improved laboratory resource utilization and patient care with the Use of Rapid On-Site Evaluation (ROSE) for Endobronchial Ultrasound (EBUS) Fine Needle Aspiration Biopsy. Cancer Cytopathol, 2013; 121(10):544-51


Collins BT, Murad FM, Wang JF, Bernadt CT. Rapid on-site evaluation for endoscopic ultrasound-guided fine-needle biopsy of the pancreas decreases the incidence of repeat biopsy procedures. Cancer Cytopathol, 2013 Sep; 121(9):518-24


Perrino C, Wang JF, Chen A, Collin B. Adult Wilms' Tumor Metastatic to the Lung: Endobronchial Ultrasound Guided Fine Needle Aspiration Biopsy. Online: 1 Aug, 2013. Diagnostic Cytopathology, 2013


Sufficool K, Wang, JF, Doherty S. Isolated splenic metastasis from carcinoma of the breast: A case Report: 30 May 2012. Diagnostic Cytopathology


Wang JF, Gong Y. Metastatic Papillary Thyroid Carcinoma in the Thigh with Unusual
Cytologic Features. 25 September, 2012, Diagnostic Cytopathology