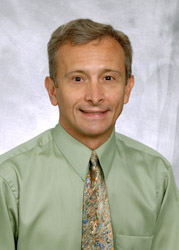 Michael Sass, M.D.
Joined PACI in 1996 (at inception)
Board Certified by the American Board of Pathology in Anatomic and Clinical Pathology
Subspecialty certification:
Special areas of expertise:
Fine needle aspiration cytology, particularly of the head and neck
Liquid-based Pap cytology
Pathology of bone marrow
Lymph node specimens
Dr. Sass is a native of Illinois and was raised in the Chicago metropolitan area. He graduated from the University of Illinois in Champaign-Urbana with a B.S. in Chemistry in and then enrolled in the University of Illinois College of Medicine in Chicago. As a medical student, he participated in research at the Westside Veterans Administration Hospital on acquired humoral immune deficiency. He was also elected to the Alpha Omega Alpha Medical Honor Society.
Dr. Sass completed his residency training in Anatomic and Clinical Pathology at the Cleveland Clinic Foundation, where he functioned as Chief Resident for two consecutive years, first in Anatomic Pathology and then in Clinical Pathology. He served as Adjunct Professor of Pathology at the John Weaver King School of Medical Technology, Ohio College of Podiatric Medicine, and School of Health Sciences, Cleveland State University. He also participated in the Cleveland Society of Pathologists Residents Presentation and was published in Acta Cytologica.
After residency, Dr. Sass joined the Medical Staff of Decatur Memorial Hospital in Decatur, Illinois where he had  functioned as staff pathologist and Director of Cytology and served on numerous hospital committees until 2017. In 1993, he co-founded Associated Pathologists of Central Illinois, Ltd., which merged in 1996 with the pathologists at Memorial Medical Center, Springfield, IL to become Pathology Associates of Central Illinois, Ltd. (PACI). Dr. Sass has served as Board Member and Medical Director of PACI for several years. He acted as a President of the group from 2014 to 2017. From 1995-2000, Dr. Sass was an external author for the CytoQuest Educational Program of the Midwest Institute for Medical Education (formerly Current Education in Cytology, Indianapolis, Indiana), contributing over 50 didactic presentations on fine needle aspiration and non-gynecologic exfoliative cytology and an additional 30 slide cases for circulation in the program. Dr. Sass has also contributed Pap test slides to the Performance Improvement Program of the College of American Pathologists. In November, 2002, he presented a poster entitled, "SurePath Pap Test: Direct-to-vial Performance and Lab Productivity", at the 50th Annual Scientific Meeting of the American Society of Cytopathology in Salt Lake City, Utah. The extended study was later published in Acta Cytologica (2004). Dr. Sass became  Director of Education in Pathology at SIU SOM and Medical Director of the Springfield Clinic Laboratory in 2017.
Dr. Sass is married to his wife of nearly 20 years and has 2 children. He enjoys jogging, roller blading, and strength training and hopes someday to resume oil painting.
Selected Publications:
Sass M, Jao W, Horn T, Keh P: Mediastinal Yolk Sac Tumor: Ultrastructural and Immunofluorescent Studies. Ultrastructural Pathology 4: 67-73, 1983.


Sass MA, Cianflocco AJ: The Diagnosis of Acute Viral Hepatitis. Resident and Staff Physician 31: 17PC-34PC, 1985.


Becker SN, Sass MA, Petras RE, Hart WR: Bizarre Epithelial Atypia in Gastric Brushings Associated with Hepatic Arterial Infusion Chemotherapy. Acta Cytologica 30: 347-350, 1986.


Sass, MA: Use of a Liquid-Based, Thin-Layer Pap Test in a Community Hospital: Impact on Cytology Performance and Productivity. Acta Cytologica 48(1): 17-22, 2004.