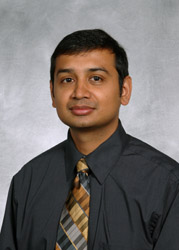 Sanjai Nagendra, M.D.
Joined PACI in 2003
Board Certified by the American Board of Pathology in Anatomic and Clinical Pathology
Subspecialty certification:
Specialty areas:
Bone marrow
Lymph node pathology
Hemostasis
Flow cytometry
Microbiology
A native of Bettendorf, Iowa, Dr. Nagendra attended Augustana College, Rock Island, Illinois majoring in Biology. He graduated from the University of Iowa College of Medicine and consequently completed a five year residency in Anatomic and Clinical Pathology at the University of Iowa Hospitals and Clinics. Dr. Nagendra then completed a fellowship in hematopathology at the same institution.
 
Dr. Nagendra has particular expertise in hematopathology (bone marrow evaluations, lymph nodes, hemostasis, hemoglobin electrophoresis, flow cytometry), and clinical microbiology. Dr. Nagendra is actively involved in teaching medical students and residents. He has been appointed Assistant Clinical Professor at the Southern Illinois College of Medicine and has published several articles in the fields of hematopathology and microbiology.
He is a medical laboratory director of the Central Illinois Hematology and Oncology group and Clinical Lab of Springfield Clinic as well as a Director of UIS student Program.
 
In his spare time Dr. Nagendra likes to spend time with his family, travel, and practice amateur meteorology.
Bibliography:
Singh NK, Nagendra S. Reversible neutrophil abnormalities related to supratherapeutic valproic acid levels.Mayo Clin Proc. 2008 May;83(5):600.


Nagendra S, Schlueter AJ. Absence of cross-reactivity between murine Ly-6C and Ly-6G.Cytometry A. 2004 Apr;58(2):195-200.


Nagendra S, Meyerson H, Skallerud G, Rosenthal N. Leukemias resembling acute promyelocytic leukemia, microgranular variant.Am J Clin Pathol. 2002 Apr;117(4):651-7.


Nagendra S, Bourbeau P, Brecher S, Dunne M, LaRocco M, Doern G. Sampling variability in the microbiological evaluation of expectorated sputa and endotracheal aspirates. J Clin Microbiol. 2001 Jun;39(6):2344-7.


De Almeida Rodrigues G, Nagendra S, Lee CK, De Magalhães-Silverman M. Human herpes virus 6 fatal encephalitis in a bone marrow recipient.Scand J Infect Dis. 1999;31(3):313-5.


Nagendra S, Rosenthal N. Utility of D-dimer testing in the evaluation of suspected venous thromboembolism. American Society of Clinical Pathologists. Clinical Hematology Check Sample. 2000, 6(5).


Zupancic , P . Shah , F . Shah-Khan , S. Nagendra. Gemcitabine-associated thrombotic thrombocytopenic purpura . Lancet Oncol. 2007 Jul;8(7):634-41.
Abstracts And Presentation:
Vasef M, Nagendra S, Robinson R and Cohen M. Absence of Cycin
D1 Expression in ER Negative Mammary Carcinomas. ASCP Fall Meeting.New Orleans, Louisiana. September 1999.


Nagendra S, Richter SS, Mujeeb I, and Koontz FP. Utility of antimicrobial susceptibility testing (AST) on urine cultures of uncomplicated urinary tract infections in a tertiary care hospital. American Society for Microbiology 100th General Meeting, Los Angeles, California, May 2000.


Nagendra S, Schlueter AJ. Characterization of a Putative Lymphoid Dendritic Cell Precursor in Marine Ontogeny. American Association of Immunologists National Meeting, New Orleans Louisiana. April 2002.


Suryadevara A, Nagendra S, and Wesly O. Young Patient With Denovo Acute Myelogenous Leukemia (AML) and Chronic Lymphocytic Leukemia (CLL) with a False Positive Monospot Test. American College of Physicians Meeting, Local Chapter. Peoria, Illinois. October 2008.