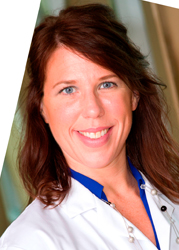 Natalie Freed, M.D.
Joined PACI in 2016
Board Certified by the American Board of Pathology in Anatomic and Clinical Pathology, Cytopathology and Hematopathology
Subspecialty certification:
Cytopathology


Hematopathology


Specialty areas of expertise:
Ultrasound guided fine needle aspiration biopsy


Cytopathology


Hematopathology


Surgical Pathology


Dr. Natalie Freed grew up on a farm in Northwest Iowa. She attended Creighton University in Omaha, Nebraska, graduating with a degree in Exercise Science and a Theology co-major in 2002. She then pursued a master's degree at Drexel University College of Medicine in Philadelphia, Pennsylvania, graduating in 2004. Her medical degree was earned from the University of Iowa Carver College of Medicine in Iowa City, Iowa, in 2008. She initially began her residency training in Otolaryngology-Head and Neck Surgery at the Cleveland Clinic in Cleveland, Ohio, and after two years, she elected to pursue training in Anatomic and Clinical Pathology. After graduating from Anatomic and Clinical Pathology residency at the Cleveland Clinic in 2014, she obtained fellowship training in Cytopathology from Northwestern University in Chicago, Illinois, in 2015. She then ventured back to Omaha, Nebraska, for a Hematopathology fellowship at the University of Nebraska Medical Center in 2016.
Dr. Freed specializes in cytopathology, hematopathology, and general surgical pathology. Outside of the office, she enjoys spending time with her husband and their adventurous three children. In her spare time, she enjoys running, cycling, reading novels, movies, traveling, and volunteering her skills for international medical missions organizations.