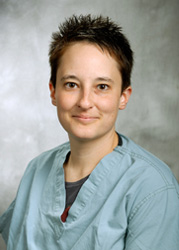 Sheri Brinkmeyer, P.A. (ASCO)CM
Joined PACI in 2010
Sheri graduated Summa Cum Laude from American International College in Springfield, MA with a Bachelors of Interdepartmental Science Degree in 2000. She then attended the Pathologists' Assistant program at Duke University in Durham, NC and graduated with her Masters of Health Science in 2002. Sheri is a member of the ASCP and an AAPA fellow.
Sheri's interests include spending time with her family, cross-stitching, reading literature, listening to music, collecting/reading sequential art and playing video games. Sheri is married and has two lovely daughters.