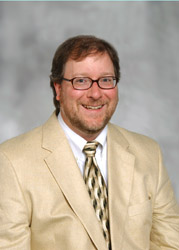 Michael J. Beckmann, D.O.
Joined PACI in 1997

Board Certified by the American Board of Pathology in Anatomic and Clinical Pathology
Subspecialty certification:
Specialty areas of expertise:
Fine needle aspiration biopsy
Gynecologic and non-gynecologic cytopathology
Dr. Beckmann received his Bachelor of Arts in Biology from Carthage College in Kenosha, Wisconsin. After graduating from Des Moines University College of Osteopathic Medicine, he served a one year rotating internship at Detroit Osteopathic Hospital/Bicounty Community Hospital Highland Park/Warren, Michigan, followed by a combined Anatomic and Clinical Pathology residency at The Cleveland Clinic, Cleveland, Ohio. After residency he completed a cytopathology fellowship at William Beaumont Hospital, Royal Oak, Michigan.
Dr. Beckmann is currently a Director of Cytopathology Lab and Director of Laboratory Outreach Services at Memorial Medical Center. He serves on Southern Illinois University School of Medicine Year Four Curriculum Committee, Year Three/Four Elective Sub-committee. He is a Year Four and Three Pathology Elective Coordinator and Pathology Medical Student Advisor
Selected publications of interest:
Beckmann MJ, Prayson RA. Mixed glial neoplasms: a clinicopathologic study of 33 cases including p53 immunohistochemistry. Pathology 1997; 29:159-164.


Beal HN, Stone J, Beckmann MJ, McAsey ME. Endometrial cells identified in cervical cytology in women >40 years of age: criteria for appropriate endometrial evaluation. American Journal of Obstetrics and Gynecology 2007; 196: 568.e1-568.e6.



Al-Nourhji O, Beckmann MJ, Markwell S, Massad LS. Pathology correlates of a Papanicolaou diagnosis of low grade squamous intraepithelial lesion, cannot exclude high grade squamous intraepithelial lesion. Cancer (Cancer Cytopathology). 2008; 114(6):469-473.