Molecular Diagnostics, Transplant Pathology, and Clinical Immunology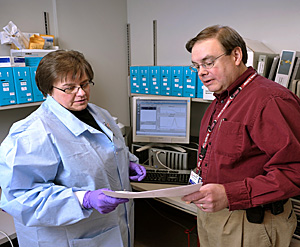 Molecular Diagnostics
Molecular diagnostics is increasingly playing an important role in patient care. These assays, which largely utilize PCR (polymerase chain reaction), are being performed to different degrees in Memorial Medical Center and Decatur Memorial Hospital. Molecular testing was initiated under the direction of Dr. Lower in 2002. Examples of some molecular applications include:
Rapid identification of bacteria and viruses
Identification of bacteria with antibiotic resistance
Viral load testing
Mutations associated with hypercoagulable states
HLA typing
Histocompatibility testing
Histocompatibility testing is performed at Memorial Medical Center in a laboratory that is accredited by the American Society for Histocompatibility and Immunogenetics (ASHI) and is directed by Dr. Lower, a board certified Immunopathologist, who is approved by ASHI to perform the duties of Laboratory Director and Technical Supervisor.. The laboratory's primary duty is to provide support for the SIU School of Medicine/Memorial Medical Center kidney and pancreas transplant programs but also performs testing in other clinical situations where HLA typing, matching, or antibody screening may play a role in patient care. The laboratory provides the following services:
HLA class I (HLA-A, B, Cw) and class II (HLA-DR, DQ) typing using molecular techniques
HLA class I and II antibody screening using bead based solid phase techniques
HLA crossmatching using serology
Clinical Immunology
The Clinical Immunology Laboratory at Memorial Medical Center and Decatur Memorial Hospital oversees serological testing for various autoimmune and infectious diseases using indirect immunofluorescence, direct immunofluorescence, and ELISA. Examples of some basic services include:
Viral serologies that indicate exposure to an infectious agent or vaccine response
In vitro Mycobacterium tuberculosis exposure testing as an alternative to PPD
Various collagen vascular and rheumatologic disease markers
Renal biopsy evaluation for antibody or immune complex deposition.